OTHER WORKS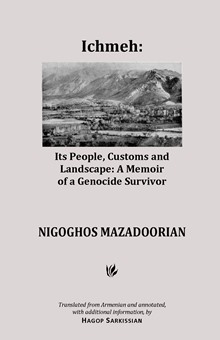 The George Ignatius Foundation and Walter J. Karabian have provided a grant of $250 to help with this project.


Ichmeh: Its People, Customs and Landscape: A Memoir of a Genocide Survivor (complete)


ICHMEH: ITS PEOPLE, CUSTOMS AND LANDSCAPE: A MEMOIR OF A GENOCIDE SURVIVOR

by Nigoghos Mazadoorian

Translated from Armenian and annotated, with additional information, by Hagop Sarkissian

2015, 40 pages.

Nigoghos was born in Ichmeh, Province of Kharpert, in 1907. After surviving the Genocide, he came to the United States in 1924. After his marriage to Elizabeth (Yeghsapet) Aharonian, they lived in Detroit and Whitinsville, Massachusetts before settling in New Britain, Connecticut.

They had two children: Charlie Garabed and Harry Haroutiune.

Nigoghos worked most of his career at Stanley Works in New Britain from whence he retired. Stanley Works were manufac-turers of hand tools, builders' hardware, security devices, bolts, nuts, rivets and washers, power hand tools.

Nigoghos died on May 13, 1997 in New Britain.


---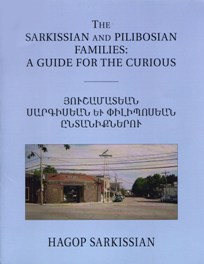 THE SARKISSIAN AND PILIBOSIAN FAMILIES: A GUIDE FOR THE CURIOUS

by Hagop Sarkissian

2009, 446 pages, illustrated. Limited edition.

Calling this volume a family book, the author presents scenes of Middle Eastern culture and of American culture while drawing upon his broad knowledge of book design. He describes his early years of growing up in Beirut, Lebanon, with the extensive details of his life there. This includes his work with early typesetting modes at the Armenian newspaper Zartonk as well as copious notes about all of his family, relatives and friends with many photographs and historic facts in the background.

Arriving in America in 1957, he presents as many descriptions of Boston's South End and work at the Baikar Association Press as well as his new wife and family. Working at Harvard University Printing Office for almost 29 years, he also chronicles his experiences there with many computerized typesetting machines. Vacationing often, and he lists all the details of his travel with family in Europe and in America.


---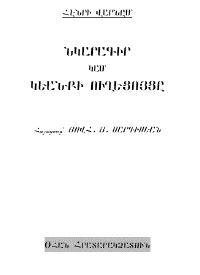 THIS BOOK CAN BE READ ONLINE IN PDF FORMAT USING ACROBAT READER.


Character, or the Guide to Life (complete)



CHARACTER, OR THE GUIDE TO LIFE (in Armenian), by Henry Varnum, translated, with additional material, by Hovhannes H. Sarkissian, 2003.

Hovhannes H. Sarkissian translated this book by Henry Varnum in 1938, and is presented here in PDF format. Varnum wrote this book of aphorisms on one hundred subjects.

Hovhannes H. Sarkissian was a teacher and writer from Kessab, Syria, noted in his time through his writings in the Armenian press in Beirut, Lebanon, and in America.


---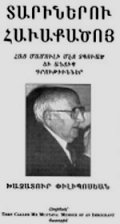 THIS BOOK IS SOLD OUT, BUT CAN BE READ ONLINE USING ACROBAT READER

THE COLLECTED WORKS OF KHACHADOOR PILIBOSIAN, compiled and annotated by Hagop Sarkissian (in Armenian), 2002.

Read PDFs by Chapter:

Introduction
Ichmeh
Genocide
Poetry
Prose



Khachadoor Pilibosian's articles, poems and stories were published in 15 Armenian-language newspapers and magazines in the United States and abroad over a span of 53 years.

As a survivor of the Armenian Genocide, his autobiographical works with his thoughts and feelings on that subject are foremost. In his writings he included information about Ichmeh, the village of his origin in historic Armenia (Turkey), articles about his mother and the unusual arranged marriage with his father, about his experiences in America since his arrival in 1920 with facts and impressions of the Star Market, artist Arshile Gorky, world-famous Armenian-Egyptian cartoonist Alexander Saroukhan, and many others.

General subjects, book reviews, two children's stories in English, religious poems and poems for people and anniversaries round out the collection as well as 100 pictures.

He is co-author of the memoir They Called Me Mustafa: Memoir of an Immigrant with Helene Pilibosian, published by Ohan Press.


---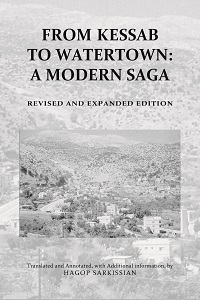 (SORRY, THIS TITLE IS CURRENTLY OUT OF PRINT)

FROM KESSAB TO WATERTOWN:
A MODERN SAGA

by Hovhannes H. Sarkissian et al
translated and annotated, with additional
information by Hagop Sarkissian

Read Online Review

An autobiography of the teacher and writer from Kessab, noted in his time through his writings in the Armenian press in Beirut, Lebanon, and in America, and a short narrative by Vahan Mamalian, M.D.; additional accounts by the educator Kevork A. Sarafian , and the lawyer Dickran Boyajian. Contains details of the Armenian Genocide (1909 and 1915) in Kessab (an Armenian village in Syria), Adana (a former Armenian city in Cilicia), and elsewhere in Cilicia; descriptions of Kessab, Mt. Cassius, the city and the state of Alexandretta (an area alternately belonging to Syria and Turkey); facts about the Armenian Legionnaires in Cilicia and the Kessabtzi volunteers; facts about the Vartanian School of Aintab, St. Paul's Institute in Darson, School of Religion in Athens, and Near East School of Theology in Beirut. Contains 236 pages of narrative with pictures, maps, family trees, Index and Bibliography.

Hagop Sarkissian is a photocomposition consultant affiliated with Harvard Printing and Publications Services, Harvard University.

"A beautifully produced book with an appealing story that is well translated and valuable research that is presented in a scholarly manner." --The Rev. Dr. Vahan Tootikian, Lawrence Institute of Technology, Southfield, Michigan